Dear Samakee Community, 

Many ceremonies and customs are associated with the upcoming Songkran New Year Festival. This year, we will celebrate Songkran at school on Tuesday, April 5th and end the day after lunch at 13:00. Children will have a chance to learn about Songkran and be encouraged to dress up in Songkran style clothes, a bright colour, a flowery shirt. School uniforms will not be required. 

On this day, from 8:00-10.00 am, the children and staff are invited to make offerings to nine monks from Wat Chonlaprataan Temple, located near the school. The offerings can be a variety of dried food, such as dried rice, canned food, instant noodles, beverages, essential medicine, etc. (Sorry, we will offer no flowers to the monks this year). If you would like to contribute, we would be grateful if you could put all your child's offerings in one bag with your child's name. The offerings will be donated to needy families upcountry. 

We will follow all appropriate Covid safety measures throughout the ceremony to keep the children and staff safe. Please inform your child's teacher or phase leader if you would like your child to be an observer at these Thai cultural events and not participate. Thank you.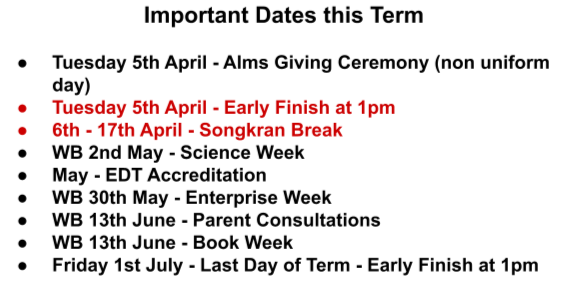 COVID 19 UPDATE WB 28th MARCH Here is the link to the Google Formfor ATK test results; please write the date and your child's name on the 'test device', take a photo and send it to school.  Families should send test results on Sunday morning and Wednesday evening.  

During the Songkran Break please share ATK results on Sunday 17th April before returning to school on Monday 18th April. Thank you!

TEACHING & LEARNING HIGHLIGHTS! 
SMARTS ANCIENT EGYPT  
YEAR 7 THAI LANGUAGE
WEATHERMEN AND WOMEN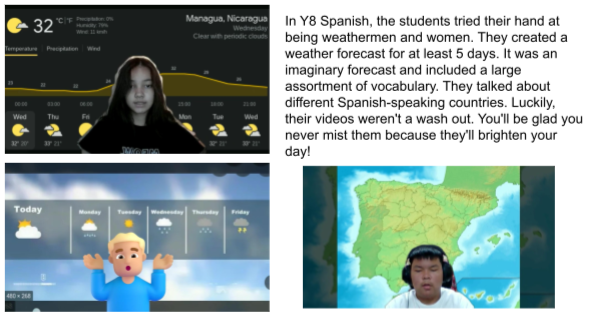 PI DAY ACTIVITIES
 SONGKRAN BREAK
School will be closed for the Songkran holiday from Wednesday 6th April to Friday 15th April. We will return to school the Week Beginning 18th April. Families are requested to send ATK results on Sunday morning, the 17th, before returning to school. Thank you!

Tuesday 5th April will be an 'early finish' at 13:00, and parents should collect children after lunch. Thank you. 

Thank you for your understanding and support in keeping our community safe and healthy at this challenging time, and we wish all our community a relaxing and enjoyable Songkran Holiday! 

Kind regards,
Monica L Sudhirak
Head of School