Dear Samakee Community, 

Air pollution has been a challenge this week, and our teachers have been creative in finding indoor games and physical activities to keep children active and engaged. Hopefully, the air quality will improve next week!
MARCH PARENT CONSULTATIONS
Parent Consultations were a positive and successful event this week, with 80% of our families participating. 47% face-to-face and 33% virtually. Thank all who took part for your helpful feedback and encouraging support; we greatly appreciate your collaboration. This academic year, the third and final Parent Consultation Meetings will take place the Week Beginning the 29th of May 2023, and we will share more information about these meetings in May. 

If you could not attend the meetings this week for any reason, please do not hesitate to reach out to us and make an appointment, as we want to speak with everyone. 
Monday 13th, is the start of Enterprise Week, and the children are working on making products to sell at our Enterprise Market. Each group makes approximately 10 items to sell, and the proceeds will go to charity. The Enterprise Market will open on Thursday 16th, from 8:30 am – 10:00 am on the sports field, and parents are invited. The children will need to bring money for the Enterprise Market. 

Tuesday 14th, is Pi Day, and First and Middle School will participate in circular activities. Upper School will be trading digits of Pi, calculating Pi and memorising the digits of Pi in class – finalists will be chosen from each group to compete at a Pi contest.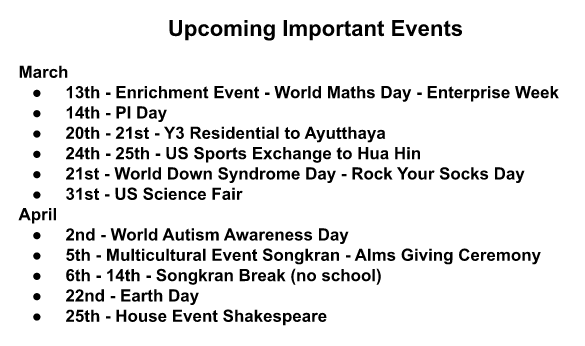 TEACHING & LEARNING HIGHLIGHTS!

EYFS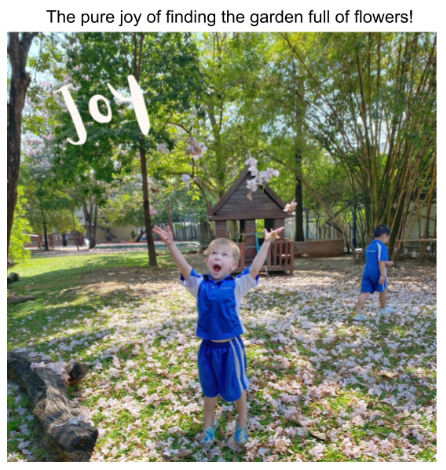 YEAR 4/5 INDIAN COOKING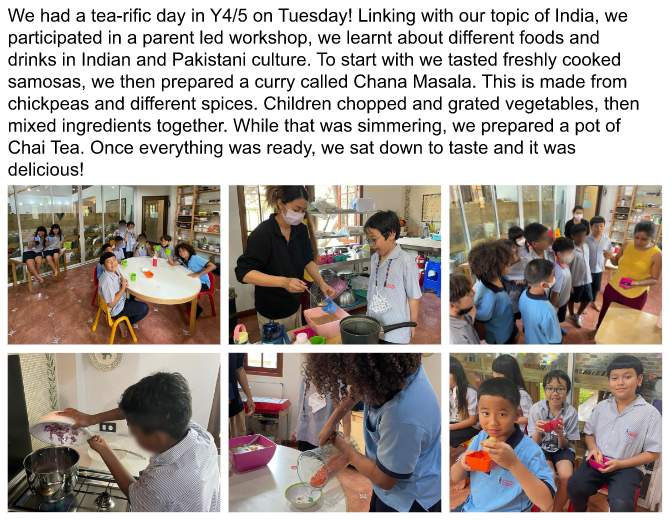 RESIDENTIAL TRIP TO CHIANG RAI
BOOK SHOPPING
THEME PARK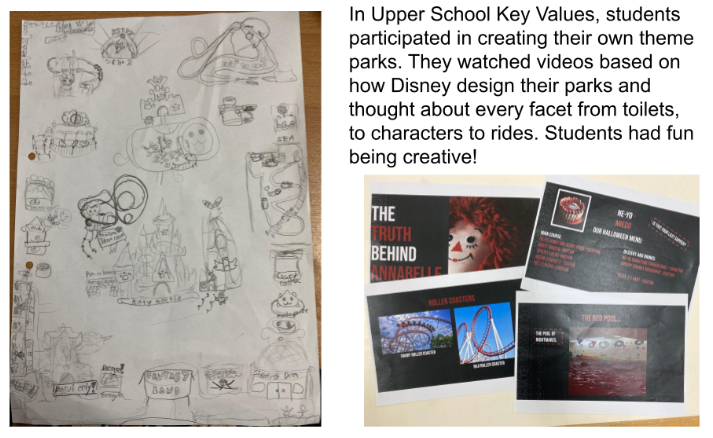 DOWN SYNDROME DAY
SAS LEAVERS SURVEY
Every year, in term 2, we begin to organise our classes and tutor groups for the new academic year 2023-2024. To do this, we would like you to complete our Leavers Survey to learn more about your enrollment plans at Samakee next year. 

At this time of year, we receive many visitors hoping to join our community next term, and your feedback will enable us to inform families about the availability of places. Consequently, your response to this Survey is essential to us as it ensures that we have the correct number of students for each year group, and we can make any necessary adjustments before the start of the new year.  

If your plans are currently uncertain, please complete our Leavers Survey based on your most likely expectations for the future.  

Please click the form here: .SAS_Leaver Survey 2023 and complete one Survey for each child attending our school. 

Thank you for your help and have a lovely weekend! 

Kind regards,
Monica L Sudhirak
Head of School