Dear Samakee Community, 

Although we are still waiting on the essential details, we are preparing for an effective campus reopening. As soon as we have more information about what MoPH, MOE and OPEC require from our school community, we will be in touch with everyone. 

In the meantime, we are working closely with staff and government authorities to establish the necessary measures to allow our school to get full approval to open for classroom teaching. When partial activities at school are permitted we will introduce a Hybrid Learning Plan with a mix of in-person learning and remote (online) learning. The children will spend part of their week in school and part learning remotely at home. This model will mean less exposure for everyone, but importantly, the children will have the opportunity to interact with other children and their teachers. We will provide more details of this hybrid learning plan as soon as it has been approved. 
As I mentioned in last week's newsletter, part of the requirements for bringing children back to face to face learning will include high staff vaccination rates as well as the vaccination status of everybody who has regular contact with our students. Therefore, we need all our families to complete their health declaration forms as soon as possible so that we can incorporate this critical information into our school opening plan. Please include anyone who regularly mixes with your children and takes them to school on the health declaration form; only one declaration form is required per family. See link here – SAS Health Declaration Form  

The announcement that the government will provide vaccines for all 12-18 year-olds is a positive one. However, it is not yet clear how to register 12-18 year-olds for the Pfizer vaccination. Nevertheless, we have heard that some families have had success by contacting their "home" Nonthaburi or Bangkok hospital. We will keep you informed as and when we know more. Along with the measures explained, regular Antigen Test Kits (ATK) will need to be used for testing staff and children, both at school or home. We have already purchased a stock of Antigen Testing Kits (ATK), and we have been testing our staff weekly.  ECAs will start soon, and we will share a link with you for the days they are being offered as soon as they are finalised. 

ONLINE LEARNING HIGHLIGHTS THIS WEEK

UPPER SCHOOL PHYSICAL LITERACY
Year 7, 8 & 9 have started a PBL assignment this week. How will You Promote Physical Literacy in our Younger Samakee Students?
SHOW & TELL LOWER KEY STAGE 2

As a teacher, starting the school year with a new class is always an exciting time, and in Lower Key Stage 2 they got to know each other a little better this week by sharing favourite hobbies, interests and items from home. Everyone brought along something special to virtual class and shared the reasons why it holds value to them. It's going to be a fun and engaging year in Lower Key Stage 2 with so many creative and wonderful students! 

UPPER SCHOOL SCIENTIFIC METHOD
Upper School has started science classes with some basic questions like "What is science?" and "How is science done?" They have explored the scientific method and designed experiments using variables. They are working on display posters to conceptualise their understanding for others.

ONLINE LEARNING IN EYFS
Even our youngest two-year-olds take great pleasure in meeting their teachers and friends online, and taking part in active and fun learning experiences.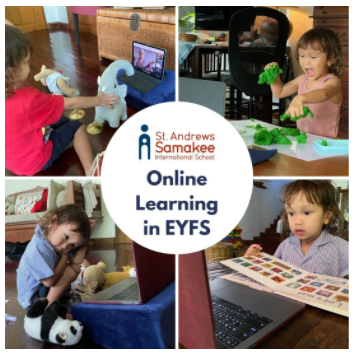 PARENT ORIENTATION MEETINGS
Due to the pandemic, our normal face to face Parent Orientation Meetings will take place virtually next week. Parents will meet with the teachers who will be working with their sons or daughters this year to find out more about the year ahead. Links will be shared with you via email before the meeting.
September 13th, Monday – 5 pm – KS1
September 14th, Tuesday – 5 pm- LKS2
September 14th, Tuesday – 5:45 pm US
September 15th, Wednesday – 5 pm – Y5
September 16th, Thursday – 5 pm – EYFS
Thank you again for your ongoing support and we look forward to talking with you next week. 

Kind regards,
Monica L Sudhirak
Head of School