Dear Samakee Community, 

It was a beautiful and cool morning as we gathered on the field to celebrate the Chinese New Year and the year of the Rabbit!  It was delightful to welcome so many family members; everyone looked gorgeous in their brightly-coloured outfits!  
MOVIE NIGHT
Thank you to the parents and ambassadors who joined me for Tuesday's Movie Night planning meeting. Much progress has been made, and we are excitedly looking forward to the event. The children have voted for their Movie Night choices, and they are as follows:-
EYFS – The Snail and the Whale
Upper School – Jurassic Park
Before the films are shown, there will be games to play and food to eat organised by the PTG, and we need your help. Donations of new toys for prizes for the various game stalls, big and small, would be greatly appreciated and can be left at the front office – thank you!  Movie Night takes place on January 27th 2023, from 5:30 pm.

TEACHING & LEARNING HIGHLIGHTS!
FESTIVALS!
SMARTS SHOWCASE!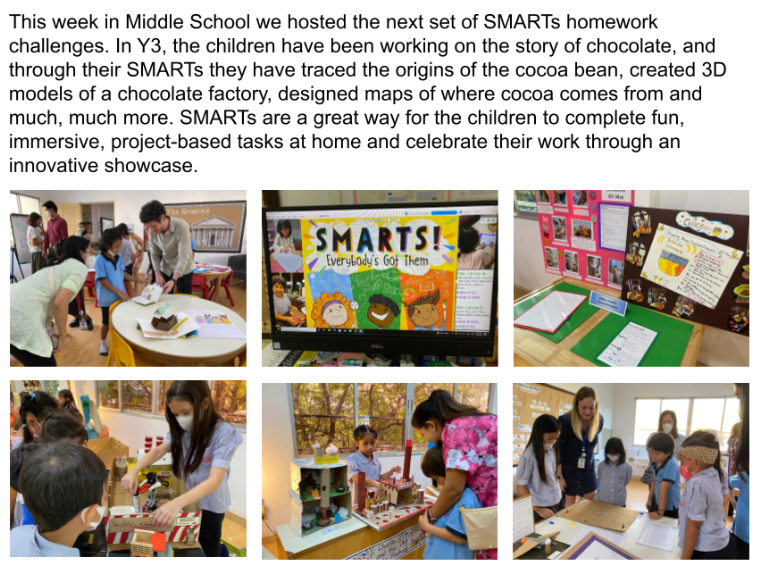 YEAR 9 MATHS!
ONE-STOP PARENT WORKSHOP
THE COLOUR RUN
PARENT CONSULTATION EVENINGS
Parent Consultation Evenings (PCEs) allow you to discuss your child's progress with their class teachers, form tutors, or specialist teachers. Our PCEs are again face-to-face this term with an optional virtual meeting; both take place after school.  

There will be two PCEs this term – the WB on March 6th and the WB on May 29th. The Parent Consultation schedule will be shared with you a week in advance. 

 I wish our school community a relaxing weekend. 

Kind regards,
Monica L Sudhirak
Head of School