Dear Samakee Community,
We extend our heartfelt appreciation to all the parents and caregivers of Samakee students for the trust, understanding, and support you have shown us throughout the academic year. For those families who will be departing from Samakee this year, we sincerely wish you and your loved ones abundant happiness and great success in all your future endeavors, no matter where your path may lead you.
As we end this year, we must also say goodbye to two staff members returning home to spend quality time with their families. To these two staff members, we wish you a smooth transition to your next place of work, and we thank you sincerely for your contribution to our school. We shall continue to stay in touch as one never knows when we will get the opportunity to meet again!
Yesterday, our Year 9 students, parents, alumni and teachers bade farewell to our outgoing Year 9 students with a touching Leavers Assembly and BBQ in the garden. While the students were clearly excited about their future ventures, they were also nostalgic about the fun-filled years they had spent at Samakee – some since EYFS! This nostalgia was evident in the student's farewell speeches which were met with laughter and a few tears. 
The Year 9 Class of 2023 have all received high school acceptances. We wish them all the best as they transition into their new schools in August. Please keep in touch!  
I also express my gratitude to our loyal alumni who consistently come back to Samakee for special occasions. Yesterday, they enthusiastically attended our inaugural alumni BBQ, which we hope will be the first of many. To all our alumni, please continue visiting Samakee as we greatly enjoy welcoming you back and hearing about your experiences.
THE SAMAKEE POOL
Regrettably, the completion of our new school pool was delayed, and it was not ready in time for the end of the current academic year. However, on Wednesday, we arranged for small groups of Upper School and Year 4/5 students to visit the pool as a special outing. Despite the temporary setback, we are eagerly anticipating the upcoming academic year when the pool and fitness room will be fully completed. This will allow us to conduct swimming lessons right here at school, and we are filled with excitement as we eagerly await its opening in August.
THE JUNGLE BOOK
Here is the link to the Middle School production of The Jungle Book, performed last week. Enjoy! The Jungle Book 
TEACHING & LEARNING HIGHLIGHTS!
PICNIC IN THE PARK
BOOTCAMP AND FITNESS FRIDAYS
THAI TRIP TO THE MANGROVE FOREST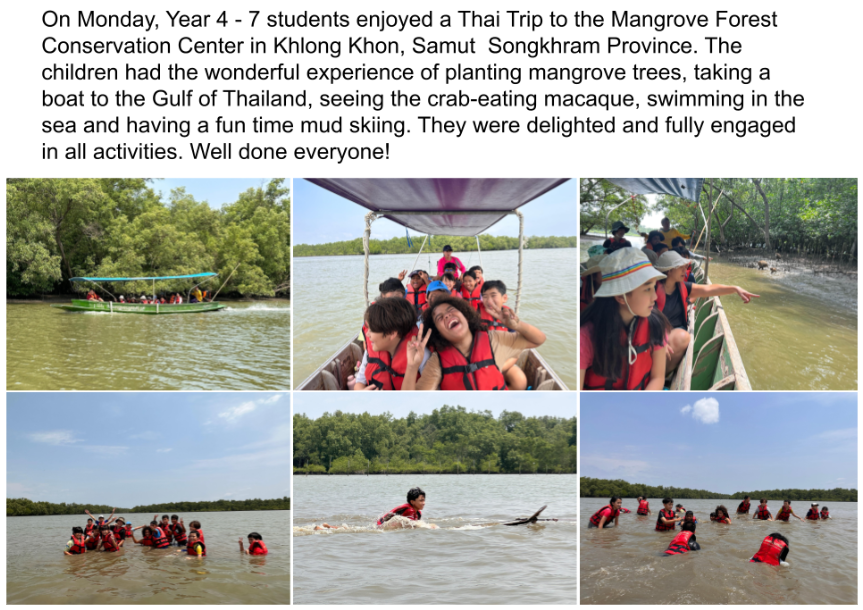 REACTION RATE
Here is the link for next year's School Calendar – SAS_School Calendar 2023-2024
END OF YEAR REPORTS
Reports will be published on the Samakee Parent Portal, if you cannot access your child's report on the Parental Portal because there is a Report Hold on your child's account, please contact the school office. Thank you. 
HAPPY HOLIDAYS!
We wish all the best to those students and teachers leaving Samakee this year; they have all made a fantastic contribution to our School in their time here. Thank you and Good Luck to Mr Gerard and Ms Bridget who have been at the school for 4 years and to Mr Chin who has worked in our school for the last half-term. We will miss you!
To everyone in our community, I wish you a relaxing and safe holiday, and I look forward to welcoming you and our new teachers to school for the start of the next academic year on Wednesday, the 16th of August.
Kind regards,
Monica L Sudhirak
Head of School