Dear Samakee Community, 

EDT ACCREDITATION VISIT
The Education Development Trust (EDT) is an important UK organisation providing in-depth inspections, educational programmes and high-quality accreditation services in England and internationally, and we have worked closely with them for more than fourteen years. When we last had a full EDT team inspection at Samakee, the team judged us outstanding in all areas.  

Our Senior Leadership Team has been working with Subject Teams and staff across the school over the last few months, writing reports on the key areas for development as we move away from online learning and return to a fully open school. In May, our Education Development Trust consultant, Pauline Barker, will visit our school with a colleague for a light touch accreditation visit. It will be valuable to have these skilled education consultants in school talking with staff and observing teaching and learning to ensure that we have maintained the high standards expected by the EDT accreditation body. 

Special Events this Term
Monday 14th March – Pi Day
Tuesday 5th April – Alms Giving Ceremony
WB 2nd May – Science Week
EDT Accreditation Visit – May
Book Week – date to be confirmed
Enterprise Week – date to be confirmed
COVID 19 UPDATE WB 14th MARCH
Covid-19 has brought about more challenges to our school with a Bubble closing last week and another Bubble closing  this week. Here is a summary of when these classes can return to face-to-face learning at school! No additional  Covid-19 cases have been reported this week in these two Bubbles. 
Monday, 21st March: KS1, Ms Alyssa, and Ms Sonia's classes will return to school for face-to-face learning with a negative ATK test.
Tuesday 22nd March: LKS2, Mr Gerard's class will return to face-to-face learning in school with a negative ATK test.
Please contact your child's Phase Leader if you have any questions about any information above. 

Here is the link to the Google Formfor ATK test results; please write the date and your child's name on the 'test device', take a photo and send it to school.  Families should send test results on Sunday morning and Wednesday evening. Thank you! 

As part of Pi Day celebrations this week, Upper School students had the opportunity to vote for the teacher they would most like to Pi. The teacher who received the most money would be Pi'd, and the money received donated to a charity chosen by the winning teacher.  

Mrs. Jib was the lucky winner and an excellent sport; here she is, cheered on by Year 9 and enjoying six very sticky pies! The event was live-streamed to all classes, and we could hear the students cheering from the King Pin Court!  

More than eleven thousand Baht was raised for charity – impressive! Well done, everyone! 

TEACHING & LEARNING HIGHLIGHTS! 
GELATIN – PLAY-BASED LEARNING 

THAI – ENQUIRY BASED LEARNING  
PI DAY AT SAMAKEE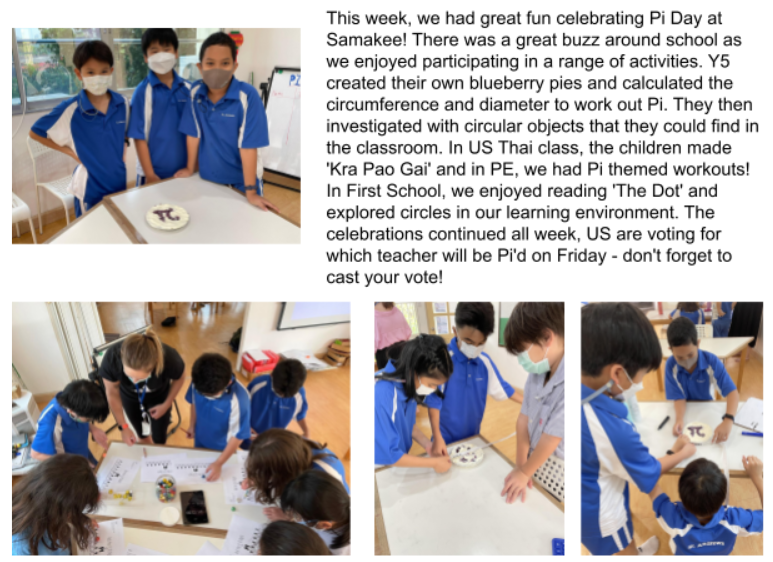 IN ART, IT'S ALL ABOUT THE LAYERS!
A CHRISTMAS CAROL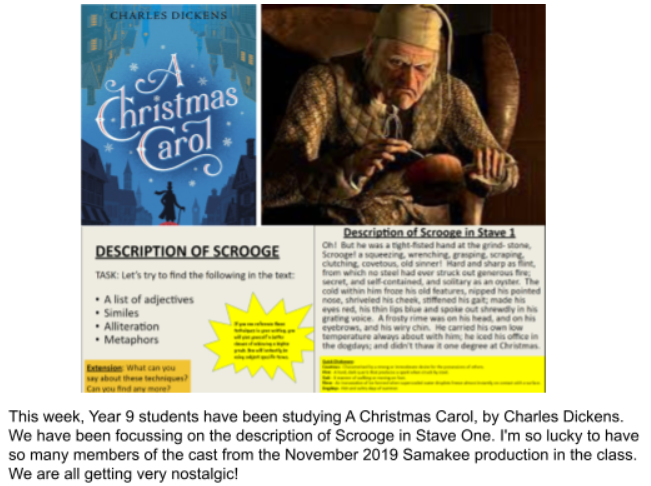 SAS LINE COMMUNICATION PLATFORM
 LINE is a popular communication platform in Thailand and one that Samakee has been using for several years. We want to reestablish our SAS LINE account for even more Samakee families and to use this to share significant school-wide updates with our school community.  

Please scan the QR code or click on this link using the device you can access LINE @ SAS LINE. If you have any questions, don't hesitate to contact us. Thank you. 

Thank you for your understanding and support in keeping our community safe and healthy, and we wish all our community a relaxing and enjoyable weekend. 

Kind regards,
Monica L Sudhirak
Head of School