Dear Samakee Community, 
Every year, we hold an Open Day at St Andrews International School Samakee to showcase teaching and learning at our school. Sadly, we missed this event last year due to lockdown, and we are hopeful that we can restart this special day in April. This special occasion allows both parents and prospective families to see the school in action, tour our facilities and talk with our Senior Leadership Team, teachers and children.  
For health and safety reasons, Open Day this year has been split over two mornings to reduce the number of adults on campus. Open Morning 2021 will occur on Wednesday 21st and Thursday 22nd April, from 8:00-10:00 a.m. We will share a Google invitation with you shortly; please indicate your interest and select your preferred day. Visitors are requested to observe Covid protocols – wear a mask, social distance, and frequently wash hands during the event. Past Open Days have been hugely successful, and we look forward to welcoming parents back on campus for this event. 

RANGOLI PATTERNS IN YEAR 5
Over the past two weeks in Art, some of Year 5 have been learning about art in Indian culture. They have been studying Rangoli patterns, focusing on symmetry, shapes and reflection. They began by designing and creating their stencils last week which they then used to create their Rangolis. The finished patterns were extremely successful as the students made sure they either reflected or rotated their stencil carefully. Fantastic work Year 5!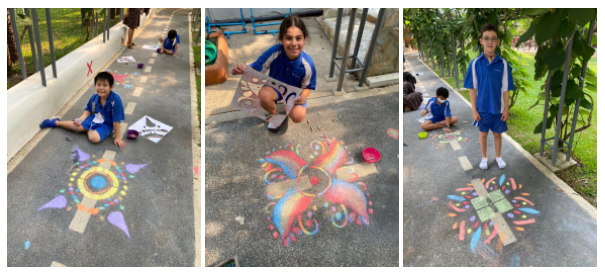 YEAR 2 POTIONS
Year 2 have been exploring capacity and using their measurement skills to make potions! They have come up with creative, crazy ingredients such as mermaid tears and dinosaur slime which they wrote down and drew on paper before using these ingredients at our potions table. Everyone made sure to carefully measure out each ingredient, accurately measuring in increments of 100 millilitres.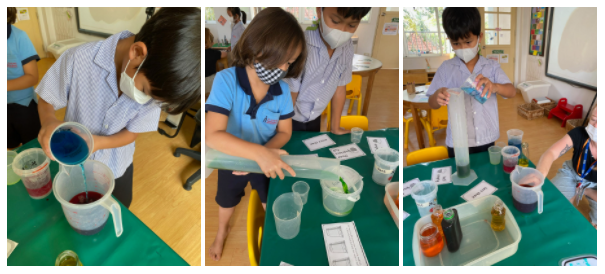 IMPORTANT DATES TO REMEMBER
March 22nd – Our next Mufti Day theme 'Off to the beach' – World Water day
March 27th – Bangkok Education Fair, 9:00 – 17:00
March 29th – Swim Gala Year 5 & 6
March 30th – Year 9 trip to Rattanakosin Exhibition Hall
April 2nd – Mufti Day – Songkran 'Wonderful Water day'
April 2nd – Nightingale House Event
April 21st & 22nd – Open Mornings – parents invited
April 26-30th – Book Week – theme 'Escape to anywhere!'
May 20th – The KS1production will take place in the school hall and KS1 parents are invited.

MEDICATION POLICY
If your child is taking any form of medication please check with your paediatrician before allowing your child to return to school, your doctor may have a good reason for not allowing interaction with others for an appropriate period of convalescence. If your child is permitted to return to school but requires medication please observe the following precautions.
Any medication brought to school must be in its original container and appropriately labelled by the pharmacist or the physician.
The medication must be labelled with the child's full name and class.
If a child has a fever – a phone call to the parents is made and confirmation taken before administering Paracetamol.
It is a dangerous practice for children to get into the habit of taking any medication without the supervision of an adult. Therefore please do not allow your child to bring any medication to school without our prior knowledge. Please hand all medication to the school nurse personally (not via a maid) with clear instructions in English. The nurse will dispense the medication at the appropriate times and make a daily record of all the medication received, given and returned. Thank you for your support.                   
I hope that you have a pleasant weekend. 
Kind regards,
Monica L Sudhirak
Head of School