Dear Samakee Community, 
The Songkran holiday has arrived, and for Middle and Upper School, the school will be closed for two weeks, reopening on Monday 19th April.  
Next week, First School have five more days of school and will break for the Songkran holiday on Friday 9th April. After the Songkran holiday the extended school day will end and revert to normal, 14:30 and First School families will soon receive information about the After School Clubs/ECA programme for the remainder of the term.  
LEAVERS SURVEY
Thank you to those families who have already let the school and teachers know their plans for the next academic year. We understand that it may be difficult for some families to know what the future holds. Nevertheless, whatever your plans may be or however uncertain they are at this time, we ask that you please take the time to complete this survey based on your most likely expectations. Thank you.
YEAR 3 PREPARATIONS FOR THE COLOUR RUNIn Year 3, we have been using our mathematical skills to prepare for the Colour Run on Friday! We will be taking part to raise money for three chosen charities. In the classroom, we measured the ingredients using equipment; then we mixed them together to create a gooey slime; putting our hands in it was definitely our favourite part. We left it out in the sun to dry overnight, and it created a colourful powder. We are extremely excited about Friday and can't wait to take part! 

SPANISH
In Spanish, Y4 have been learning the vocabulary for physical description. What better way than to practise with a game of Guess Who. The students took turns to ask each other yes/no questions until they had worked out who their partner's chosen character was. Y4 had a great time using their Spanish speaking skills to beat their friends.

IMPORTANT DATES TO REMEMBER
April 21st & 22nd – Open Mornings – parents invited
April 26-30th – Book Week – theme 'Escape to anywhere!'
May 20th – The KS1production will take place in the school hall, and KS1 parents are invited.
YEAR 5 & 6 SWIM GALA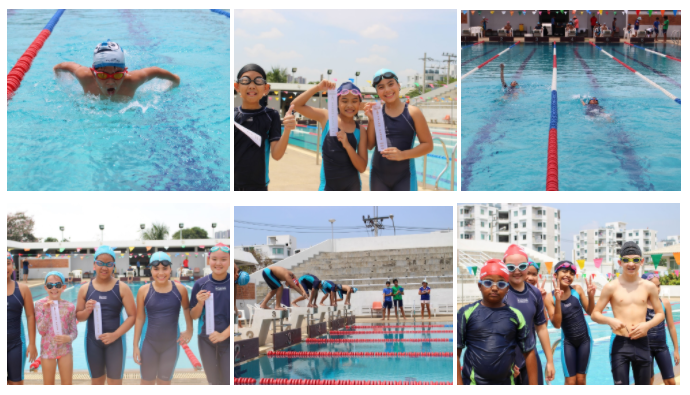 Well done to all Year 5 and Year 6 swimmers on Monday this week! A great event at the pool. Lots of ribbons won and some excellent effort and technique. Thank you also to the parents that came out to support.                    
Here are the results – very close indeed!                 
 1st      Shakespeare – 245                 
 2nd    Einstein – 243                 
 3rd     Nightingale – 200
Another successful SMARTs Homework Showcase!

COLOUR RUN
The Colour Run today has been tremendous fun and enjoyable for everyone. We will of course share more photos of the event, but before we do, I would like to share with you the results of this fundraising event.           
Einstein House raised BHT27,995 for their chosen charity – Save the Elephant Foundation.           
Shakespeare House raised BHT25,810 for their chosen charity – PAWS, helping cats and dogs.            
Nightingale House raised BHT23,411 for their chosen charity – Ban Dek Foundation for vulnerable children. 
Thank you for supporting the children today, I know that the three charities will appreciate these contributions. I would also like to thank Nightingale House for organising this colourful event! 
We look forward to working with our First School next week, and we wish Middle and Upper School families a safe and enjoyable break. 
Kind regards,
Monica L Sudhirak
Head of School