Dear Samakee Community,
Book swaps provide an excellent opportunity to cultivate a shared love of reading among our children and explore captivating new books for personal reading at home. I am delighted to announce that the book swap event held on Thursday was a resounding success. I extend my heartfelt gratitude to you for your generous donations, which resulted in a wide selection of books for the children to choose from. The children thoroughly enjoyed the experience and embraced the joy of discovering new stories to immerse themselves in. Thank you Einstein House for organising this event!
EINSTEIN HOUSE BOOK SWAP
PARENT CONSULTATIONS / END OF YEAR REPORTS
Thank you to all the parents and caregivers who actively participated in the Parent Consultations this week, whether in-person or through virtual meetings. It was truly a pleasure engaging in discussions with you regarding the progress of your son and/or daughter this term, as well as sharing updates on the exciting new developments happening at Samakee.
As the term comes to a close, we will be sending home End of Year School Reports, providing you with a comprehensive summary of your child's academic progress throughout the academic year. We kindly request your assistance in ensuring that all library books have been returned and there are no outstanding payments. Your cooperation in this matter is greatly appreciated.
Thank you once again for your active involvement and support in your child's education. We look forward to continued collaboration in the new academic year.
TEACHING & LEARNING HIGHLIGHTS!
FASHION SHOW
GEOGRAPHY
COORDINATES
YEAR 8-9 TRIP TO AYUTTHAYA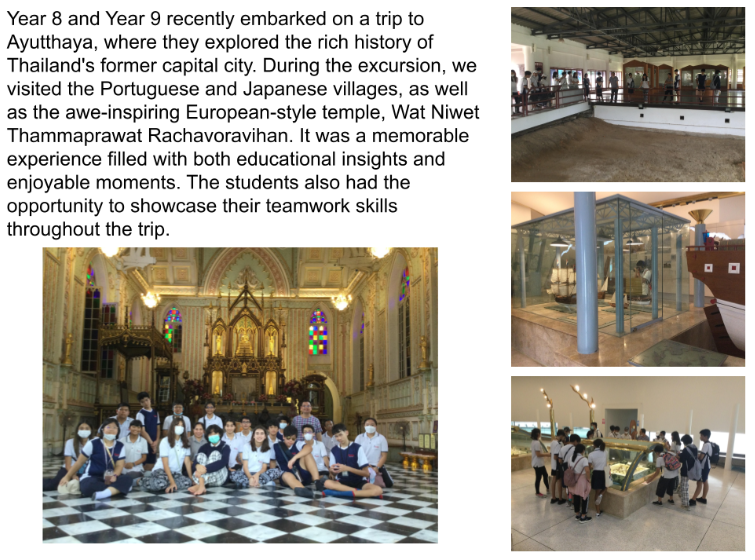 Here is the link for next year's School Calendar – SAS_School Calendar 2023-2024
Please note that Monday the 5th of June is a holiday for Queen Suthida's Birthday and school is closed. I hope that you and your family enjoy the long weekend.
Kind regards,
Monica L Sudhirak
Head of School