Dear Samakee Community, 

Sadly, the Covid-19 situation in Bangkok and Nonthaburi has not improved, and we have been told this week that schools may not reopen until at least June 14th. Therefore, children's education will continue online, and we look forward to face to face school when it is safe to do so. As soon as we have clear guidance about returning to the school campus, we will inform everyone in our community.  

Wednesday 26th May is a public holiday, and we have decided to classify this day as an INSET day for staff to replace the INSET day originally planned for May 4th. Teachers will spend the day planning for next academic year. Middle and Upper school will have a holiday, and for First School children, this will be a makeup day and regular teaching day. 

This week, one of our domestic staff has tested positive for Covid-19 and is currently being cared for in the hospital. We wish her a speedy recovery. Other domestic staff who have been in contact are now in quarantine for two weeks. 

Monday saw the start of the i-lympics (i-values!) in collaboration with Hua Hin International School – our sister school. Students from Year 1-9 have a challenge to complete every day, and scores/points are given depending on age group (Olympic Style). I am delighted to see that students and their teachers are taking part enthusiastically, so much so that Samakee has taken the lead. With even more participation, we can keep it going. Well done to all students and staff taking part; Go Go, SAS! 

Reminder, about the following updates on our calendar:-
26th May – INSET – staff training day (substitute for May 4th)
– First School regular teaching day (makeup day).
3rd June – HM Queen's Birthday – Public Holiday and holiday for Middle & Upper School
                – First School regular teaching day (makeup day). 

MIDDLE SCHOOL SMARTS!
This half term in Middle School, students have been completing a variety of life skills for their SMARTs. The range of activities on offer has allowed students to learn important skills that will help to improve their independence and understanding of everyday responsibilities. Middle School teachers have been extremely impressed with how well many of the students have taken to these activities and the enjoyment they have shown learning new things. Fantastic work Middle School, keep it up! 

MATHLETICS WORLD MATHS DAY
On the 5th May, pupils from Year 3 to Year 9 took part in the Mathletics World Maths Day Challenge online. They competed in their year groups against peers around the world! It was fantastic to see our children give their personal best with such enthusiasm. Congratulations to all who took part and especially to those that completed all 20 challenges. An extra special congratulations to some of our students who did very well in Thailand and Globally! Well done to BN (Y3), OC, BN and MD (Y5), KS and AB (Y6), UC, JW, PC, AP and PS (Y7), MT, ES and ZH (Y8) and ZS (Y9). We look forward to taking part again next year!
THAI CULTURE IN EYFS 
In the Play Based Learning time, The EYFS children have been learning about Thai culture through play, stories, and activities. They enjoy listening to stories, cooking Thai desserts, playing with Thai letters, making handprints, and using their Thai communication skills to talk, play, and sing at the Thai station during PBL time in each class. They are learning Thai and have so much fun together!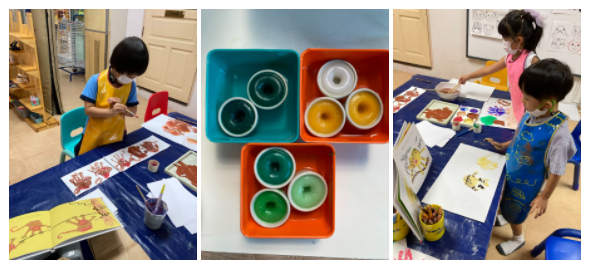 Thank you for your patience and ongoing support and I hope that you have a pleasant weekend. 

Kind regards,
Monica L Sudhirak
Head of School