Dear Samakee Community, 

We are delighted to inform you that on Wednesday, Samakee was inspected by a team of representatives from different departments in Nonthaburi. On Thursday morning, a phone call confirmed that we have passed! The inspectors scrutinised our reopening preparations and documents and thoroughly inspected the school, taking numerous photos evidencing the safety measures in place. Their comments were positive and reassuring. We now wait to hear the outcome of a meeting with the Nonthaburi Provincial Education Office and Ministry of Public Health, who will decide when schools in Nonthaburi can open. We appreciate this further delay is frustrating, especially when we hear other schools in Bangkok are returning ahead of our school. Still, we continue to do everything within our power to get permission to open.

We have had an excellent response from our community to the SAS Returning School to School Survey – thank you. 90% of respondents have confirmed that their child/ren will return to school; 9 children will continue online. Excellent, thank you! 

REFLECTIONS AND RESPONSES TO PARENTS QUESTIONS IN THE SCHOOL SURVEYIt has been a very long time since the beginning of the pandemic and the disruption to children's lives, and I know how pleased and excited most children, parents, and teachers will be to be back in school again. The children have spent seven long months out of physical school, and all of us are hoping that the end is now in sight and that there will be no more national lockdowns of schools in Thailand.  Although numerous policies and measures are required for the school to reopen under the government's rules, we want the children to return to a happy, stress-free environment; this is our priority. ​​We will not dwell on discussions about the virus or the various safety measures; this would not be appropriate. Instead, we want our students to catch up on the essential experiences of childhood as life begins to return to normal. Catching-up will, of course, include learning, but the children will also have the opportunity to rediscover play, sport and activities and spending time with their friends will be one of the foundations of helping them get back on track. 

FAQs
All schools in Nonthaburi may open for all students from November 15th; schools wishing to reopen before this date must wait for approval from the Nonthaburi Provincial Education Office and Ministry of Public Health.
Schools in Nonthaburi wanting to open before November 15th must follow the plan they submitted to OPEC. For Samakee, our initial opening plan is a hybrid model with children attending onsite school two days per week and three days online; only EYFS will attend five days per week. It was confirmed yesterday that our initial opening plan has been approved by the inspectors and we are now waiting for permission from the Mayor of Nonthaburi.
All students must provide a negative ATK test before coming to school on either Sunday evening or Wednesday evening depending on the days the student will attend school. All admin staff, teachers and TAs have been doing this for several weeks already.
The ATK test is a gentle nasal swab, different to the PCR tests used in hospitals. Nasal swabs are an easy and painless collection method for COVID-19 testing and appropriate for children.
This week, the government has informed us that they have approved saliva tests for our younger students in EYFS and KS1.
All ATK test results must be submitted via a Google Form to the school before the child can attend school. A link will be shared with you before onsite learning begins.
ATK tests can be purchased at school at cost.
VIRTUAL PARENT CONSULTATIONS
We are looking forward to discussing your child's progress during Virtual Parent Consultations next week on Wednesday 27th October. There will be no scheduled online lessons on this day and we will share information regarding a 'Pop-Up' event for children to join on this day. We look forward to talking with you. 

ONLINE LEARNING HIGHLIGHTS!

RECEPTION NUMBERS AND SPACE
Reception class loves big numbers and space. We combined these two interests in the story 'How Big is a Million?' We went on an adventure with Pipkin the penguin counting fish, snowflakes and snowballs, but couldn't find the number 1 million. Finally, at the end of our adventure, Pipkin looked up into the night sky at all the stars and found his 1 million. There are approximately 9000 stars visible to the naked eye from planet earth. But, if you are able to look beyond that, some estimates suggest that there are 200 billion trillion stars. Now that really is a very big number!

LOWER KEY STAGE 2 GET CREATIVE
It's all about the #Rainforest in Lower Key Stage 2 right now as the students get creative with a variety of tasks. From making Rainforest-themed food, to researching endangered animals and creating persuasive posters, the #SMARTs activities are well underway and the standard of work is inspiring!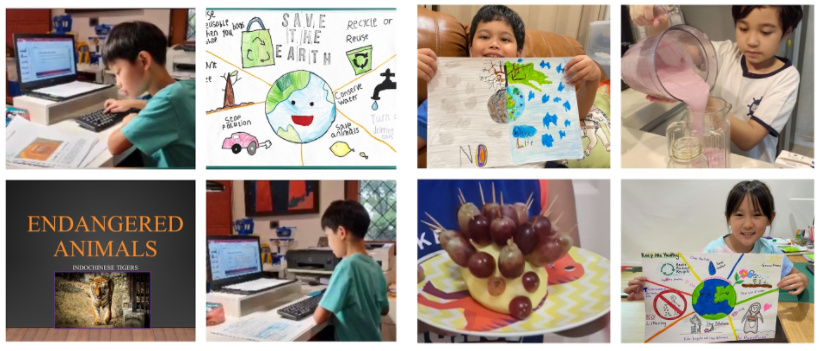 UPPER SCHOOL KEY VALUES DEBATE
In Upper School Key Values, a group of students came together to debate a topic. Mr Simon acted as a Judge, scoring not on which side of the issue he agreed with, but which side of the issue made the best arguments. In the end, the judge decided that the team against the topic had presented the best logical points, but that O.J. (the captain of the other team) was the best individual debater.
THE TITANIC DISASTER 
Students in KS3 have been analysing the suspects involved in the Titanic disaster. Who was to blame for the sinking of this 'unsinkable' ship? The students must present their argument giving evidence and then make a judgement on who was most to blame.

YEAR 2 ASTRONOMERS 
Year 2 has been working hard offline to complete optional Tapestry activities. Before half term they were given the task of creating a model or drawing of our solar system and a months of the year wheel to help them remember the order of the months. As always, I was incredibly impressed with the standard of work; well done Year 2!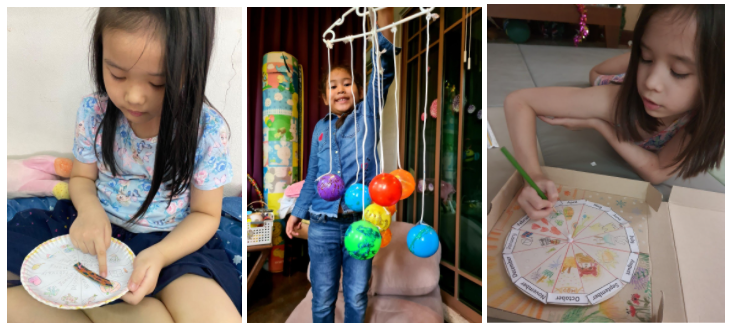 PARENT WORKSHOP
Thank you again to Mr Sethi and the parents who attended Part 2 of the workshop on Wednesday – Digital Footprint—working in partnership. I hope you found it beneficial; Part 2 will take place after half-term on Wednesday 20th October.  Once again, here are the links to a Visual Guide to our Reopening Plans and the SAS Returning to School Survey. We are looking forward to welcoming the students back into school very soon, and we will keep you informed as we learn more. Kind regards,
Monica L Sudhirak
Head of School