Dear Samakee Community, 

On Monday, 28th November, we will be celebrating Mexican day at Samakee, 'Yo Say Frida Day', and we will be learning all about the culture of this Spanish-speaking country. Many exciting cultural events are planned during the day, from Latin dancing to taco tasting and Piñata fun! On this day, we ask children in Y1-5 tostart school at 8 am so they can join in all the activities. 

All children, EYFS – Year 9 can come to school wearing red, white or green. They can also decorate their hair with flowers.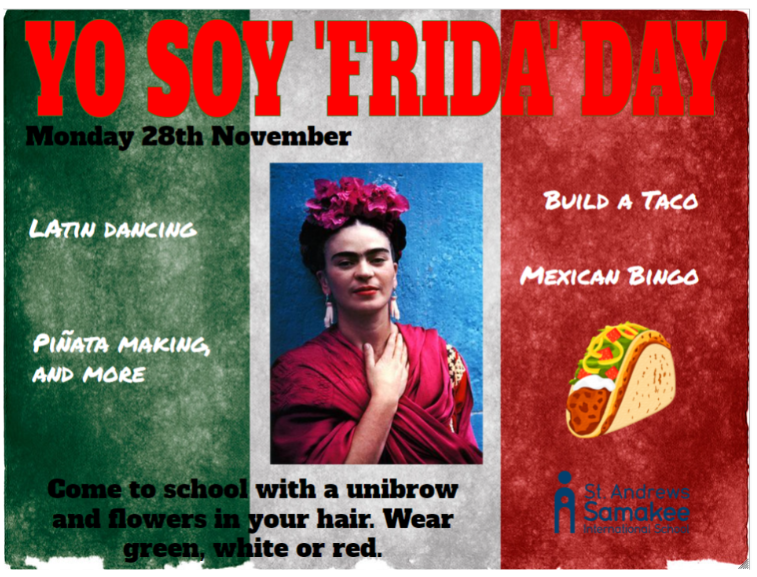 SPORTS DAY 2022
Sadly, it was necessary to postpone Sports Day this week due to the unexpected weather conditions. We will let you know as soon as a new date for this event has been confirmed. Thank you for your understanding.
SCHOOL REPORTS
School reports are sent home termly for students in Years 1 – 9 to ensure that parents are kept as well informed as possible about their child's academic progress. Reports will be published during the last week of this term and uploaded onto the Parent Portal. When this process has been completed, you will be informed via email. Please note that the school no longer provides paper copies; parents can access previous reports within the Parent Portal. Thank you. Details for December reports are as follows –
Key Stage 1 and Middle School (Year 1-5): End-of-term attainment results with Growth Mindset Continuum. Ongoing Tapestry observations and assessments.
Upper School (Year 6-9): End of year Full attainment reports – Tutor Report & Growth Mindset Continuum
WHAT AND WHEN ARE TRIPS AND RESIDENTIALS ?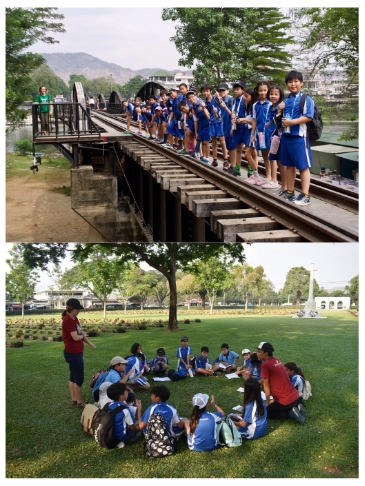 Now that Covid restrictions have been lifted, we are again taking full advantage of our local environment and organising a wide range of interesting, adventurous and informative trips. These excursions enrich the curriculum and make important links with the learning that takes place in our school.  Children's first residential experience begins with a two-day trip in Year 3, with the time spent away increasing to one week by the time the children are in Year 6. Year 3 will visit Ayutthaya, Year 4/5 Kanchanburi and Upper School Chiang Rai this academic year.  Year 4/5 will be off on their trip to Kanchanaburi on Tuesday 6th, December, and we wish them a wonderful learning experience!   

TEACHING & LEARNING HIGHLIGHTS!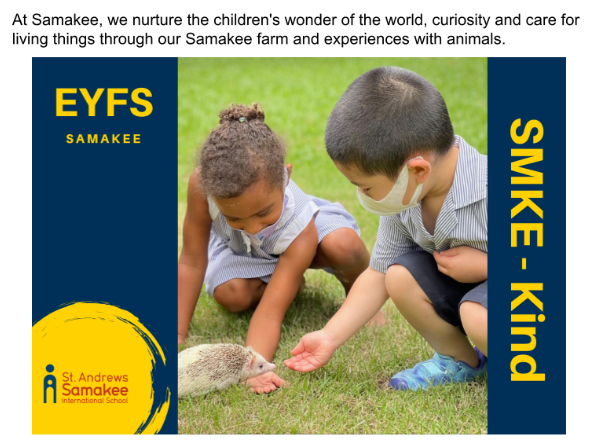 FRUIT KEBABS!
YEAR 3 THAI CLASS
KEYBOARD FOR BEGINNERS
NEW HATCHLINGS ON OUR FARM!
PTG
Our next Coffee Morning will be on Tuesday, 29th November, at 8:30 am in the Music Room, and here is the link to our Samakee PTG LINE Group. At the PTG Coffee Morning, Samakee staff will resume leading One-Stop Parent Workshops to support parents with different aspects of school. The focus at this workshop will be:
What is Storytime Phonics and how is it taught? (EYFS)
Drawing Club – Drawing Club is a fantastic place to start a child's experience of school 'Literacy'. Come and find out more! (Reception – Year 2)
Mathematics at Samakee – (Middle and Upper School)
I hope you have a relaxing weekend. 

Kind regards,
Monica L Sudhirak
Head of School