Dear Samakee Community,
It was a very busy and inspiring start to the week as we welcomed our Educational Advisor, Pauline Barker and three inspectors, Sally Lane, Nadine Powrie and David Hilbourne to Samakee for a three day EDT/BSO Accreditation Visit. The inspectors observed more than 40 lessons, held nearly 30 meetings and spoke with staff, students and parents. The experience was an extremely positive one and we are very proud of our students who behaved impeccably throughout the visit and answered questions with confidence. We are also proud of our teachers and staff who work hard every day to make Samakee such a special place to grow and learn!
We look forward to sharing the final inspection report with you as soon as it has been quality assured by the UK government and hopefully, before the end of term. I would like to thank the parents who took time from their busy schedules to meet with the inspectors and to all of you who responded to the EDT/BSO (British School Overseas) parent survey; your contribution to the inspection process is greatly appreciated. Thank you.
The Education Development Trust (EDT) is an important UK organisation providing in-depth inspections, educational programmes and high-quality accreditation services in England and internationally
EINSTEIN HOUSE BOOK SWAP
Book swaps not only promote a love for reading but also encourage children to share and engage with different types of books.
On Thursday, the children are invited to bring to school three books they would like to swap, and to choose two books for themselves that excite them; the third book will be given to a children's charity upcountry to help less fortunate children. The books should be of good quality!
By participating in the book swap, children will also have the opportunity to explore new genres, authors, and stories that they may not have encountered before. Additionally, the act of giving a book to a children's charity upcountry helps instill empathy and a sense of social responsibility in the children.
MOVE ON MORNING
Yesterday after playtime, with much excitement and enthusiasm, the children lined up and went with their new teacher to visit their new classroom and learn about some of the changes that will take place next year.
NEW TEACHERS
We are very excited to welcome four new teachers to Samakee in August after a very successful recruitment period in January. The teachers and I will be very happy to talk more about new staff during Parent Consultations next week, so please do ask.
Josey Mendez from London will be joining our Key Stage 1 team and has five years teaching experience. Josey is very creative and likes painting, drawing and designing clothes, she is also very excited to visit our farm.
Simon Neesam who is currently working as the Head of Computer Science and Assistant Principal at a secondary school in the UK. Simon has nearly 20 years computing experience and will be accompanied by his wife Sally, also a teacher, and two children.
Sally Neesam, partner to Simon, has also been teaching for nearly 20 years and will be teaching Art and Design and Technology. Sally is from Leeds, which is in the North of England, she is passionate about teaching and plans to teach our students how to achieve wonderful pieces of Art.
Sophie Sinclair, originally from Manchester, UK, is a maths teacher and also an experienced school councellor. Sophie comes to Thailand with her husband and two children and will be teaching Maths in Upper School and promises to make learning maths as fun and engaging as possible!
NEW SAMAKEE LAND
I am delighted to inform you that we have acquired another plot of land for our school in addition to the new pool site! The new land, approximately one rai, is behind our Inclusion Centre and currently accessible via the basketball court. In the summer holiday we will create easier access via our playing field.
This expansion presents another exciting opportunity to enhance our school's physical environment and provide more resources for the students and staff. This afternoon we took the students in Middle and Upper School for a visit and they were very excited.
With the increased space, we will create a sports field and outdoor activity area to promote physical fitness and provide another space for our students to engage in football and other recreational activities. These areas can also be utilised for extracurricular programmes such as sports teams and outdoor events.
TEACHING & LEARNING HIGHLIGHTS!
HOW MANY SEEDS?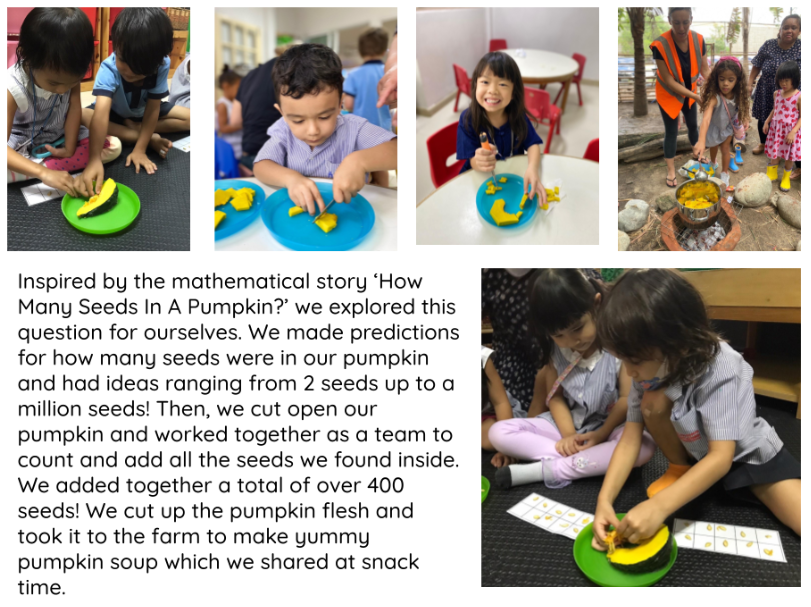 CRICKET KEY VALUES
KS1 CAMP OUT
UPPER SCHOOL ART EXHIBITION
Here is the link for next year's School Calendar – SAS_School Calendar 2023-2024
PARENT CONSULTATIONS
We are looking forward to discussing your child's progress during Parent Consultations next week. For parent convenience, appointments are scheduled face-to-face on Tuesday 30th May and virtually on Thursday 1st June; teaching and learning will continue at school as usual. An appointment letter has been shared with you and we do hope to speak with you all before the end of the school year. Thank you.
LIBRARY BOOKS
Please note that the last day for book borrowing this term is Friday 2nd June. This will allow us time to check our stock and make sure all books are returned at the end of the academic year.
Please help us by checking your bookshelves and helping your child to make sure that they return all their library books by Friday 9th June. Thank you.
I hope that you and your family have a relaxing weekend.
Kind regards,
Monica L Sudhirak
Head of School