Dear Samakee Community, 

We hope your child is excited about Science Week, which takes place next week. Organised by the Science Subject Team, we aim to raise awareness, spark enthusiasm and celebrate science across the school!  

Today we say goodbye and many thanks to two of our student teachers, Anna and Sarah, who have been working with us this term. We wish them a safe journey home and wish them the very best for the future as they return to university to complete their teaching degrees. 
TEACHING & LEARNING HIGHLIGHTS! CREATIVITY IN EYFS The children in EYFS decided to paint 
their tricycle! Why not?          UKULELE FUN
Last week in KS1 EBL we explored different areas of musical learning. Children enjoyed playing rhythm games, jumping on the Piano mat, playing Instrumental Uno and writing music notations; but the most successful of all was the Ukulele band. You can see for yourself!
A big thank you to all the parents for their support and for allowing children to bring their ukuleles into school. 

MENTAL MATH WORLD CUP 2022 
Middle and Upper School students are invited to take part in the online Maths competition, Mental Math World Cup 2022. Last year, we had several children that succeeded as finalists. Hopefully, we can do it again this year! 

Participation is optional and comes at a small cost for registration (255 baht). Parents and students who choose to participate will need access to a tablet or mobile in order to download the app.  

Please read the following for more information.   
ATK TESTS
ATKs are now a necessary part of our everyday lives. Based on rough estimates for the number of students across Bangkok's 100+ international schools doing 2 tests/week this could equal 26,000 kgs of ATK plastic waste across 1 school year! This isn't counting tests being done by teachers or support staff. This plastic is being used once and sent straight to landfills. Up until now, concerns about COVID transmission have stopped recyclers from accepting these tests. However, the latest science shows that COVID surface transmission is incredibly unlikely. Step 1. Make sure ATK tests come back negative, we cannot accept positive results! Step 2. Lightly bend the test until it separates, get rid of the small test strip inside. Step 3. Rinse the 2 plastic parts. @PreciousPlasticBKK will take this plastic to make a special line of products. They will both disinfect the plastic and then melt the plastic to 180 degrees Celsius so there is no chance of COVID surviving by the time it has been processed!  

For more information please visit www.preciousplastic.com. Bring in your used ATK tests and put them in our box by the front gates. Thank you! 

YEAR 7 MATHS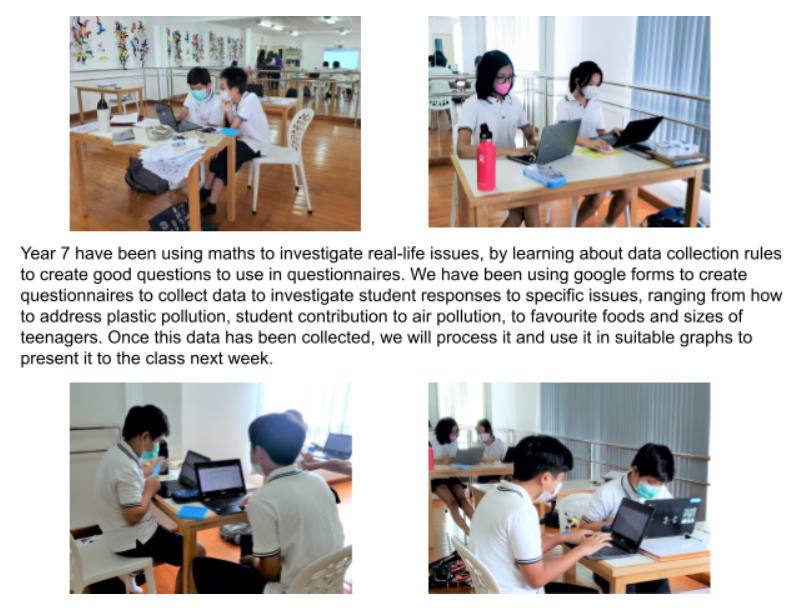 THAI SOCIAL – YEAR 7
 In Upper School Thai Social, Year 7 has been learning "The Musical Compositions of His Majesty King Bhumibol Adulyadej". The students worked in groups to find out about the history of each song and how the meaning of the lyrics impacted people. They also had a chance to play instruments as well as sing!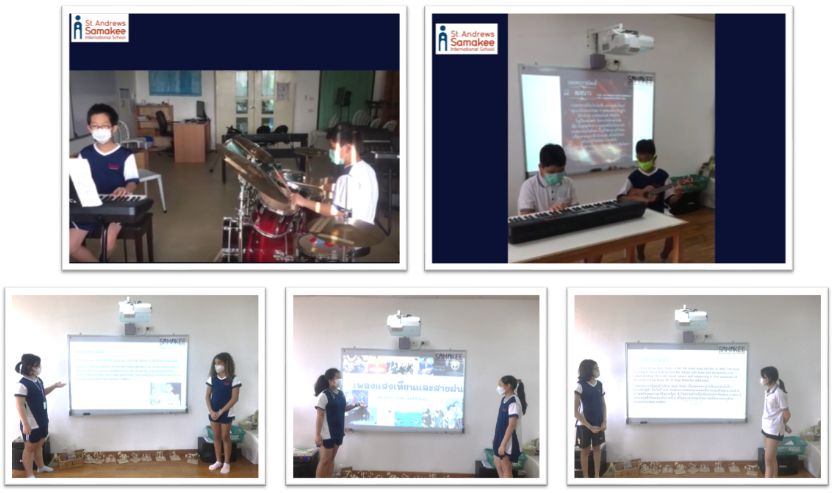 Here is the link to the Google Formfor ATK test results; please write the date and your child's name on the 'test device', take a photo and send it to school.  Families should send test results on Sunday morning and Wednesday evening. Thank you. 

We wish all our community a relaxing and enjoyable weekend! 

Kind regards,
Monica L Sudhirak
Head of School