Dear Samakee Community,

At Samakee, there are rigorous monitoring systems and procedures in place to ensure that the quality of teaching and learning is consistently good or better. One of these systems is Pupil Progress meetings which take place each half-term with class teachers, Phase Leaders, Head of School, Inclusion Leader, specialist teachers and form tutors. We discuss individual needs, appropriate interventions, and any extra support children may need at these meetings. We analyse data with class teachers, including teacher judgements and the results from the end of unit assessments and standardised tests. We track each child with rigour, and term 1 Round 2 Progress Meetings are now taking place! 

As part of this monitoring process, KS1, Middle. School and Upper School families will receive end-of-term reports, and these will be available at the end of next week. We publish reports in an age-appropriate format as follows.
Tapestry narrative observations for each child
End of term attainment results with targets & the Growth Mindset Continuum
Year 3 – 5 attainment results, the Growth Mindset Continuum and the results from standardised tests (NGRT / PTM) taken at the end of November
US End of term complete attainment reports – Tutor Report & Growth Mindset Continuum and the results from standardised tests (NGRT / PTM) taken at the end of November    

 IMPORTANT NOTICE – TEMPORARY REPORT WITHDRAWAL 
We will temporarily withhold your child's December Report if your child's library books are outstanding and or your child's Term One School Fees have not been paid. As soon as this has been made right, we will publish your child's report on ISAMS. We appreciate your understanding.  

TEACHING PRACTICE PLACEMENTS TERM 2
We are looking forward to welcoming three students for their Teaching Practice placements from ITEps NHL Stenden University of Applied Sciences Meppel, Netherlands, for the coming term. Their names are Sarah, Anna and Mijke, and they will join our primary school for a couple of months starting in February; and we look forward to working with them and helping them progress in their teaching careers. 

TEACHING & LEARNING HIGHLIGHTS!
UPPER SCHOOL SPANISH
In US Spanish, as part of our topic on Music, the students created their own little rap using the Spanish they have covered in class. Move over Eminem; we have some musical geniuses in the making. 

ENQUIRY BASED LEARNING IN KEY STAGE 1
SNEEZY SNOWMEN IN NURSERY AND KINDERGARTEN
YEAR 8 COMPUTER SCIENCE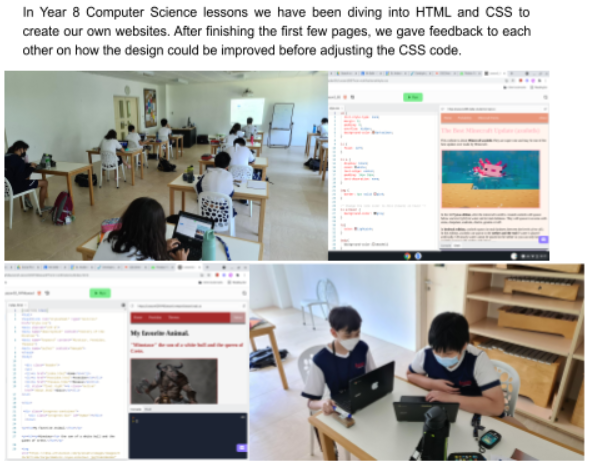 KEY VALUES IN UPPER SCHOOL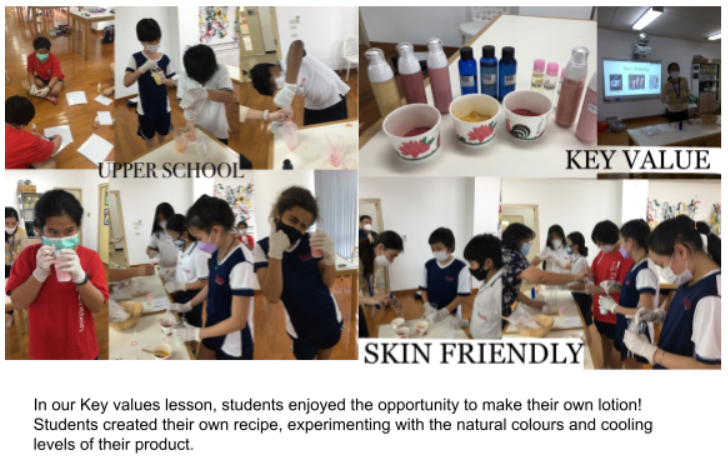 LAST DAY OF TERM 1
Our last day of Term 1 will be on Friday 10th December and Term 2 begins on Monday 10th January. Friday the 10th will be a Mufti Day, and children may wear their favourite clothes with perhaps a festive theme! As part of our termly tradition on the last day of term, the school will close a little earlier next Friday to start the Christmas holiday. Departure times will be staggered as follows.
EYFS – 12:30KS1 – 12:40
MS Y3,4,5 – 12:50
US – 13:00 

Wishing you a pleasant weekend. 

Kind regards,
Monica L Sudhirak
Head of School