Dear Samakee Community,
After weeks of planning and many meetings with the PTG, Movie Night took place on Friday 27th January, and it was a superb evening! Mums and dads, teachers, LSAs and teacher assistants, office staff, volunteers and domestic staff, all came together, to create an exceptional evening for the children.  

The food organised entirely by volunteer parents were delicious and plentiful, without a doubt, contributing significantly to a hugely successful evening. The weather was pleasant, the atmosphere welcoming and the movies lots of fun resulting in many happy children, laughing, chatting, playing and relaxing while families, alumni and friends were able to socialise and enjoy the good food. 

Huge thanks to everyone involved in Movie Night and to everyone that came, a very worthwhile and enjoyable event indeed.
TIME TRAVELLING TOURISTS!
How can we focus on the future without delving into the past? Our students had the opportunity outside of history and topic lessons to contemplate this question.

They were transported back in time to different periods of the past. Students enjoyed:
Cave Painting at the Farm
Mock Rock carving from prehistory
Making children's games from the 19th Century
Making a medieval trebuchet
An archaeological dig and coprolite making as well looking at dinosaur bone and human bone x-rays
Ancient Thai Sword fighting
Making elegant thai desserts from the Ayutthaya period
Breaking codes like Alan Turing during World War two
Finding out about the history of Lego
Combining ancient greek myths and stop motion tech
A great day of time travel.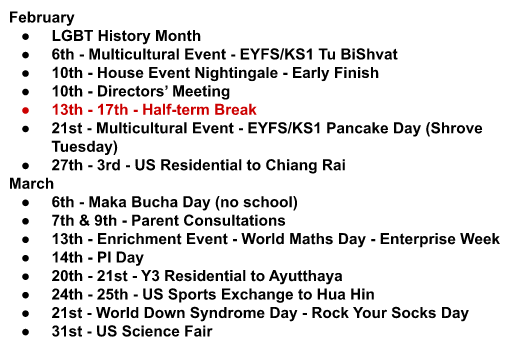 TEACHING & LEARNING HIGHLIGHTS!
HISTORY DAY
THAI FESTIVALS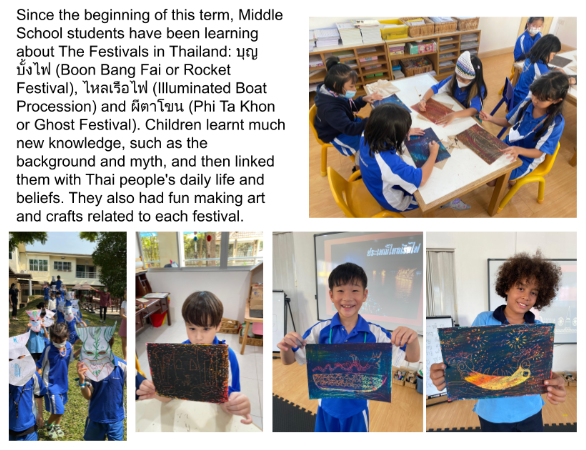 EYFS AND KS1 SPORTS DAY
CURRENT ELECTRICITY
 I wish our school community a relaxing weekend. 

Kind regards,
Monica L Sudhirak
Head of School