Dear Samakee Community, 

On Tuesday 1st February, Upper School students returned to face-to-face learning, and it was delightful to welcome them back, and I can confirm that there has been no Covid transmission between any members of our community.  

COVID UPDATE WB 31ST FEBRUARY
During the routine ATK tests at home, a parent reported a positive ATK test in our KS1 class, and it was necessary to close both the KS1 'Bubble' and the Nursery/KG 'Bubbles' for two days and move online to wait for the results of a PCR test for both the student and parents.
During tracing and tracking, we found that the last contact was on Thursday 27th Jan, therefore, siblings who were considered low risk had already had the three day period required by government guidelines and were able to attend school as normal.
On Tuesday, 1st February, the family confirmed that the student and parents' PCR tests at a local hospital were negative. Consequently, the KS1 'Bubble' and Nursery/KG 'Bubbles' resumed face-to-face learning on Wednesday, 2nd February.
We apologise sincerely for the inevitable short notification for our KS1 and Nursery/KG parents and the sudden switch to online learning that occurred. We appreciate how difficult an abrupt change in routines is for our children, families and staff; we thank everyone for their understanding and flexibility as we endeavour to keep our school community as safe as possible in such challenging times.
 Sharing your child's ATK results on Sundays and Wednesdays has become a necessary safeguarding procedure. We hope this practice will keep our school community safe with as little COVID infection possible. This week we have learnt first-hand that PCR tests take time; therefore, we request that starting this week (Sunday 6th February), Sunday's ATK tests are completed and shared with the school by midday. If a positive ATK test is found, there will be more time to notify parents and staff of a move to online learning the following day and for the student and family to have a follow up with PCR tests as soon as possible. Thank you for being so helpful. 

The Circumstances For Closing A 'bubble'
If there is a positive student case, the individual 'Bubble' will close for an initial three days and return to online learning. If the PCR test is positive, the 'Bubble' remains closed and continues with online learning for ten days.
As per covid protocol, we count back to the last day of contact in school and add the government recommended three-day closure or ten days isolation. Three days for low risk individuals and ten days for high risk individuals.
TEACHING & LEARNING HIGHLIGHTS!

KEYS STAGE 1 ENQUIRY BASED LEARNING
YEAR 5 SPANISH PRESENTATIONS
UPPER SCHOOL BOOK REVIEWS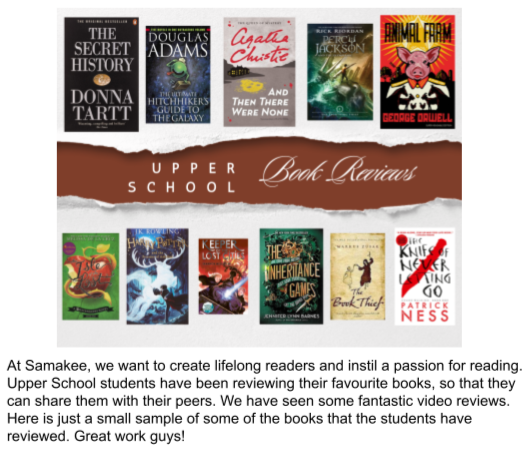 UPPER SCHOOL ACIDS AND BASES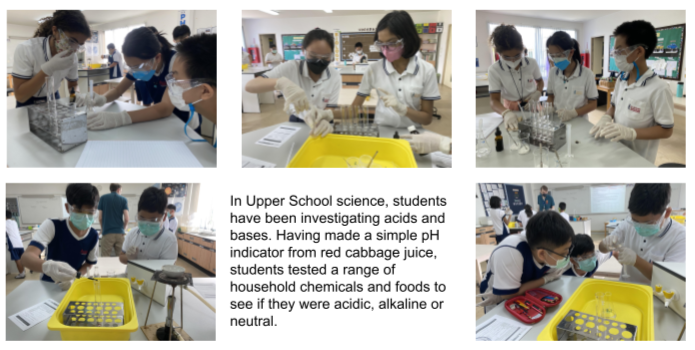 VIRTUAL PARENT CONSULTATIONS
We are looking forward to discussing your child's progress during Parent Consultations on Thursday 10th February, between 7:30 am and 7:30 pm. Parent Consultations take place three times per year in October, February and May. We will be using Google Calendar Appointments for these meetings, and you can find all the information you will need to book your appointment in an email shared with you this morning.  

To facilitate an effortless consultation experience for parents and staff, please book your appointment slot no later than 3 pm on Wednesday 9th February. Thank you.  

MATHS SUPPLY TEACHER
We are looking forward to welcoming Roland Schmidt-Bellach's to Samakee on Monday 6th February, helping him settle in and introducing him to our students and staff. Attached with this newsletter is an introductory letter from Roland for your information.   

HALF-TERM HOLIDAY REMINDER
As indicated in our school calendar, the week beginning Monday 14th February school will be closed for one week for our half-term holiday; the school will reopen on Monday 21st February. 

Thank you again for your understanding and support in keeping our community safe and healthy and I wish you a pleasant weekend. 

Kind regards,
Monica L Sudhirak
Head of School