Dear Samakee Community,
Thank you to all the parents who gathered in our new Fitness Room on Thursday morning for the first PTG meeting this year. It was a pleasure to chat with you and to get valuable insights into your thoughts and ideas about our school. The meeting also created opportunities for you to establish friendships and networks within our Samakee community.
We know that every parent has unique insights and suggestions that can contribute significantly to the continued growth and improvement of our school and we want to work in partnership with you. Therefore, we would like to invite you to share your thoughts, ideas, and suggestions for the future of St. Andrews Samakee and to facilitate this process, we have set up this Google Form, (link below), and look forward to hearing from you. Additionally, we will be hosting the next PTG Coffee Morning on Thursday 5th October at 8:00 am. 
SAS_Parent Teacher Group Suggestions 
SAMAKEE ACCREDITATION REPORTS
As you may already be aware, we have recently undergone the reaccreditation processes with both EDT and BSO. I am pleased to share that the official reports stemming from these evaluations have been received and are now accessible on our school's website – see links below. 
 https://www.standrews-samakee.com/wp-content/uploads/2023/09/Samakee-BSO-report_July2023.pdf
https://www.standrews-samakee.com/wp-content/uploads/2023/09/Samakee-ISQM-Accreditation-Report_July2023.pdf  
We are also proud to announce that, as an Outstanding School, our school has successfully met all the standards mandated by the UK Government. We are currently awaiting the publication of our most recent BSO report on their website and for your information here is the link.  
https://www.gov.uk/government/publications/british-schools-overseas-inspection-reports/british-schools-overseas-accredited-schools-inspection-reports#contents 
TEACHING & LEARNING HIGHLIGHTS!
MUSIC
We sing, dance and play music everyday at Samakee.

YEAR 8 SIGNIFICANT FIGURES CARDS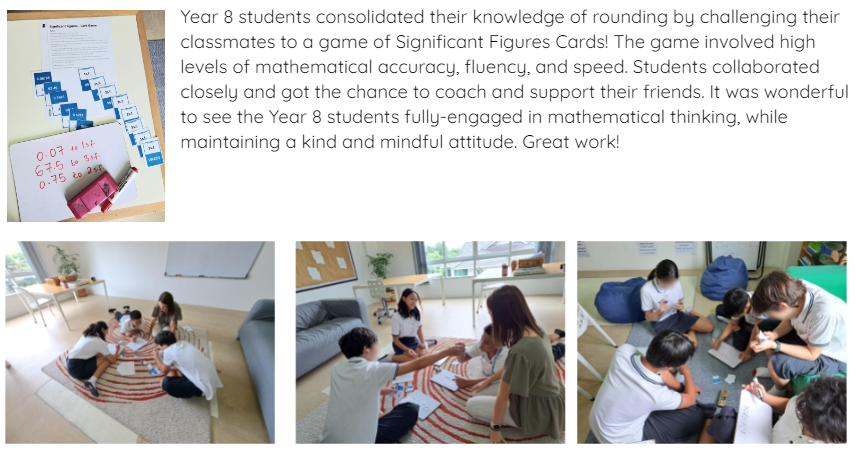 YEAR 1 THAI CLASS
Welcome to the Year 1 Thai Class! Year 1 students have been learning Thai language in a comprehensive manner, encompassing both the language and Thai social and cultural aspects. The students have shown a keen enthusiasm for learning, engaging in various activities such as making banana desserts as part of their Thai social studies. They have also embarked on creative crafts related to the Thai alphabet they have been learning. Additionally, technology has been used to stimulate and review their lessons, with the students playing Thai alphabet games created by the teacher.


INTERNATIONAL CHARITY DAY AND WORLD SAMOSA DAY
We celebrated International Charity Day and World Samosa Day on the 5th of September. One of our amazing families made samosas for every child in upper school and they were very much appreciated and enjoyed! 

LAB SAFETY
We are back to school, and the importance of lab safety is the first thing students must learn in science class. Students conducted some simple experiments, discovered how to operate equipment like the bunsen burners safely, and discovered the possible hazards and safety equipment in the science lab. 


Important Contact Information
Absences from School:
If your child will be absent from school: please contact the school office, phone 0844278277 or email
Khun Amber – amber@standrews-samakee.com
Khun Beer – beer.p@standrews-samakee.com
20 CREDITS CERTIFICATES – UPPER SCHOOL
ARTIST OF THE WEEK
We awarded one of our Year 8 Students the first artist of the week award this week. She takes away the trophy to keep as a reminder of her fabulous work.
SAS LINE COMMUNICATION PLATFORM
LINE is a popular communication platform in Thailand and one that Samakee has been using for several years. We want all our families to use our SAS LINE account so that we can share significant school-wide updates with our school community.  Please scan the QR code or click on this link using the device you can access LINE @ SAS LINE. If you have any questions, don't hesitate to get in touch with us. 
Here is the link for the School Calendar – SAS_School Calendar 2023-2024
Wishing you all a relaxing and enjoyable weekend! 
Kind regards,
Monica L Sudhirak
Head of School